The Real World Review: 12 Things To Know (Andrew Tate)
We enrolled in TRW in order to research this course and Andrew Tate's own training and see whether it lived up to the promises it promises. Please continue with us. The goal is to provide you with an accurate assessment and review of the best online business courses available in the world. We have been using The Real World by Andrew Tate for several months, and here are our honest thoughts.
1. How does The Real World help you make money?
TRW offers a comprehensive package for making money online. Here's what course you can take in RealWorld. The course includes training sessions by several teachers / trainers including Andrew Tate. This is from TRW's sale pages… "Our professors are called professors, but they have experience in teaching, not theories. Our students made more than $1 million using their teaching methods and techniques. Their goal is to guide you through the course. Everyday". 
You make money from the real world by taking a course on a skill you want to learn, you watch lessons and do practice activities. It is pretty similar to any online course. The big difference is your scores are the results of your ability to apply and produce money. 
Unlike other online courses, there is no BS with TRW. They do have a bunch of motivation content, but they just literally tell you what to do, how to do it, all the hacks. All you have to do is copy and paste. 
For example, we took the affiliate marketing course. They give you a product link to sell TRW and they teach you how to make videos, how to look at analytics, a multistep plan to grow on social media, they tell you how to use hashtags, how the algorithm works on all the social media platforms. They even break it down between IG, YT, Clapper, TikTok, and more, because each platform is different. 
In summary, The Real World legit helps you make money by giving you a product you can sell, or by helping you learn several skills that will make you money online.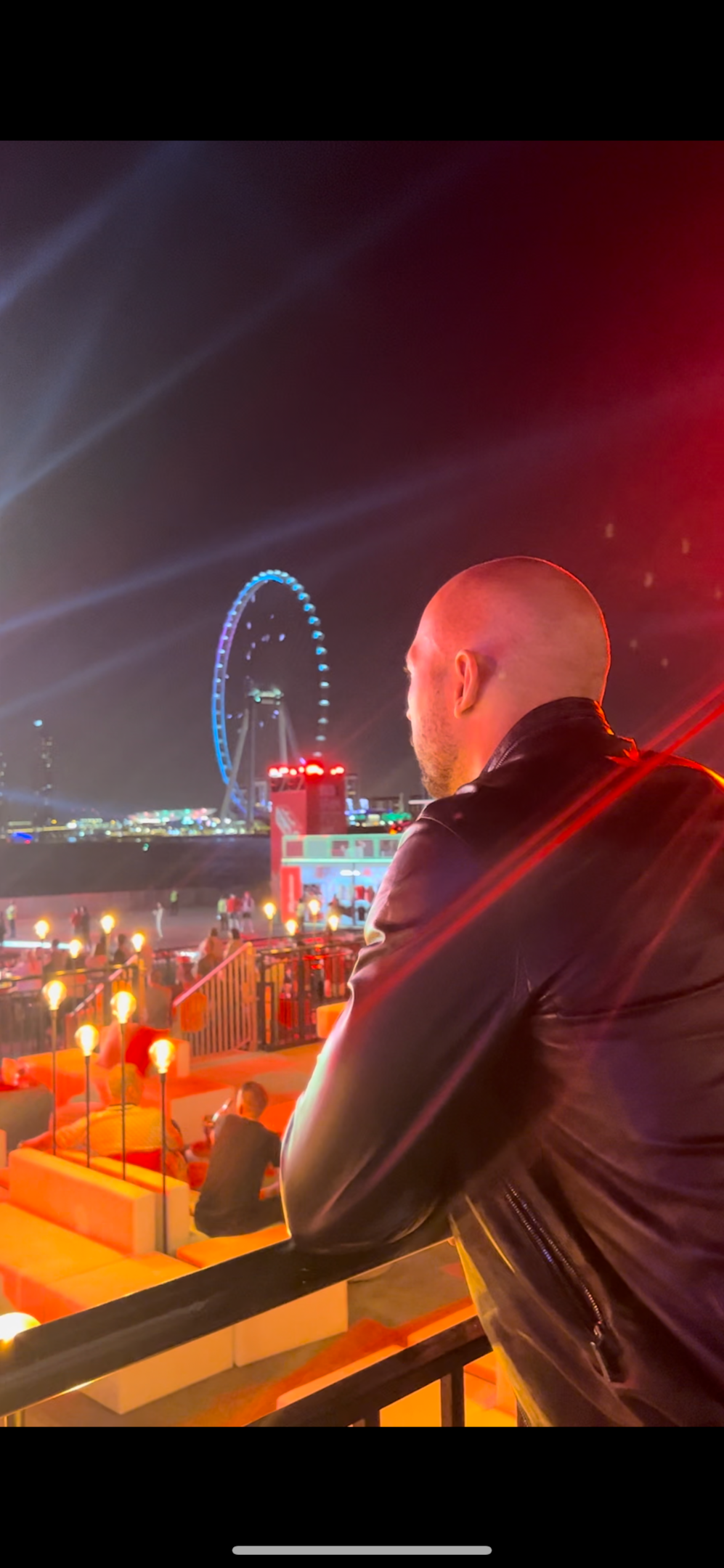 2. How does The Real World work?
Unlike the Discord server The Real World operates in a dedicated server run by Tate and his crew. This portal is available through a browser and an app. This website is designed using an incredibly flexible infrastructure, but operates similarly. Tate also made it his business to have his own payment processor. There are applications for mobile phones that enable access to portals on a mobile device. This app can be downloaded in both Apple and Android App Stores. The smartphone application allows the users to quickly and securely visit the campus at any time.
You can engage in chats and live Q&A's with professors, or you can just mind your own business and take the courses offered. 
Each course has several modules that you move through. Each lesson has a test question at the end, and you just move at your pace. The content is a very easy to follow program.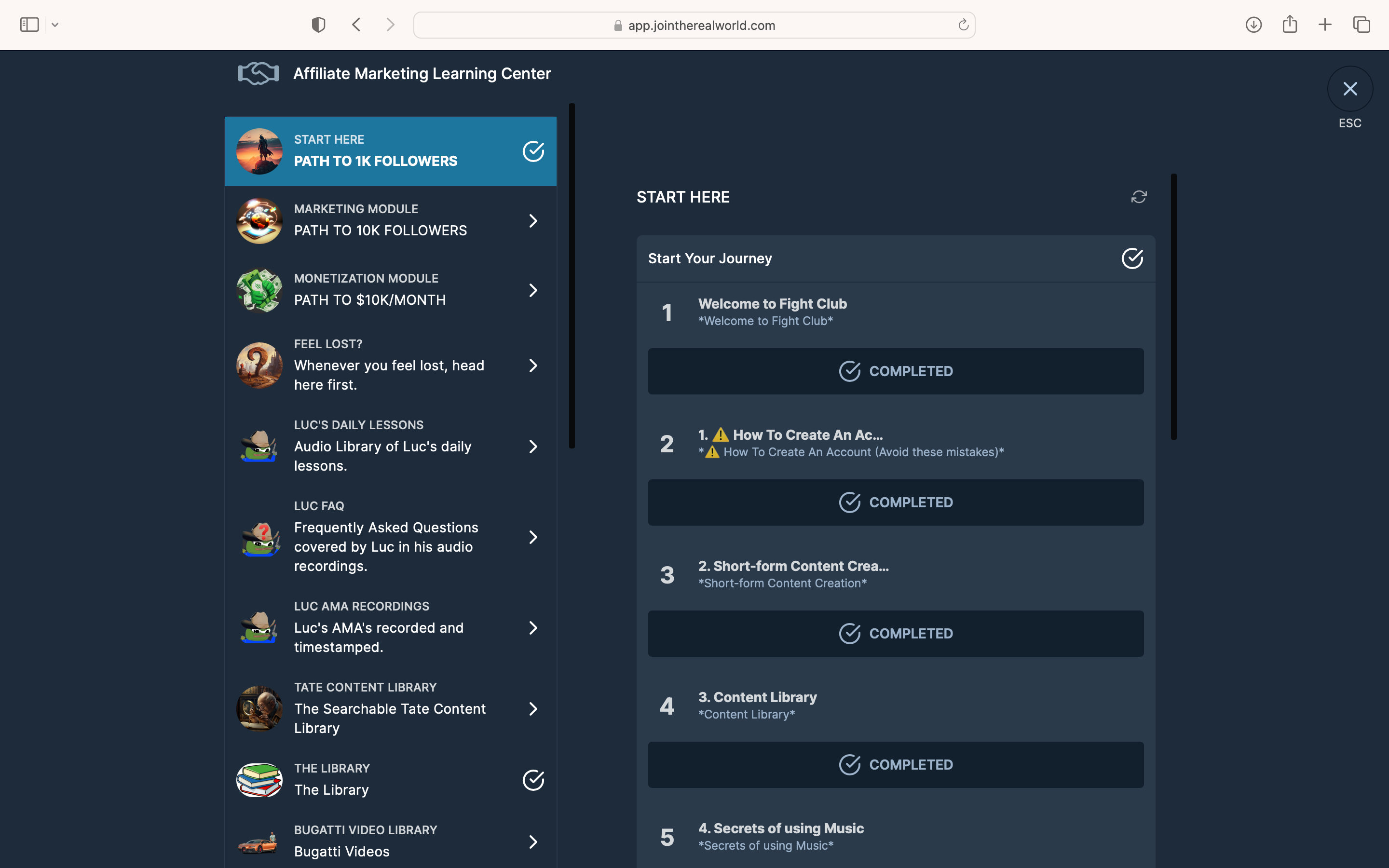 3. The Real World Review: Mentors
The mentor is sometimes called the "professor" of " The reality " and is someone who made more than $1 million using Andrew rates teaching methods. They're not just theoretical experts, but have real-life experience. Founder of the Real World, Andrew Tate hand selected the Professors based on their skills as mentors to assist them in their business journey. The company has a daily informative video that provides a high degree of education as well as mentoring for student success.
The courses do have content from the Tate brothers, but the courses are led by other people who sound similar to them and share similar beliefs. Each professor is very engaged in their Course and offers daily communication and Q&A's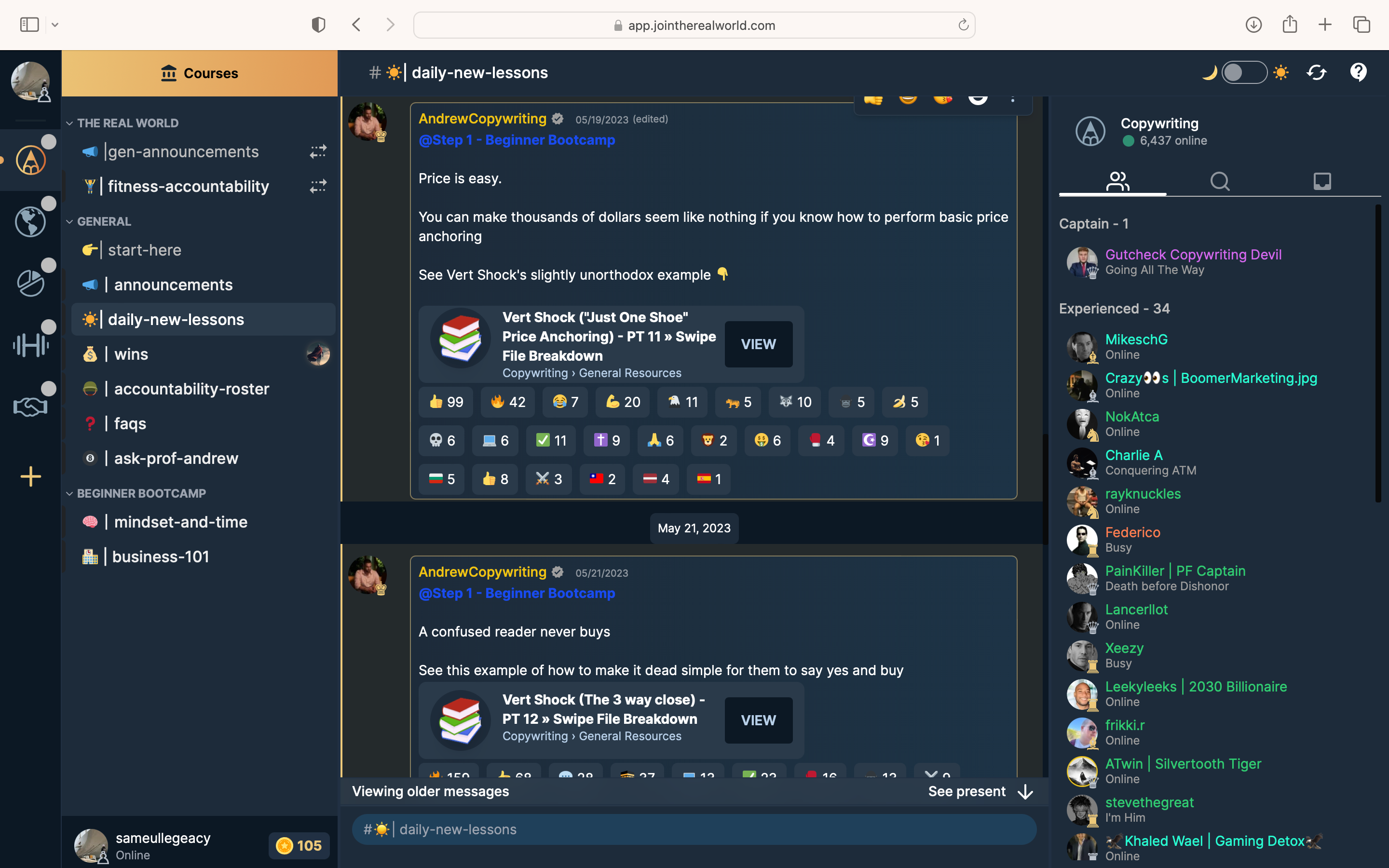 4. How much does The Real World cost?
The Real World itself is $50. There are some courses within TRW where you need to have money you are ready to invest into your business. For example, they suggest having at least $500 to start e-commerce or drop shipping. 
We started with no money and chose the affiliate marketing route and so far we have been learning so much.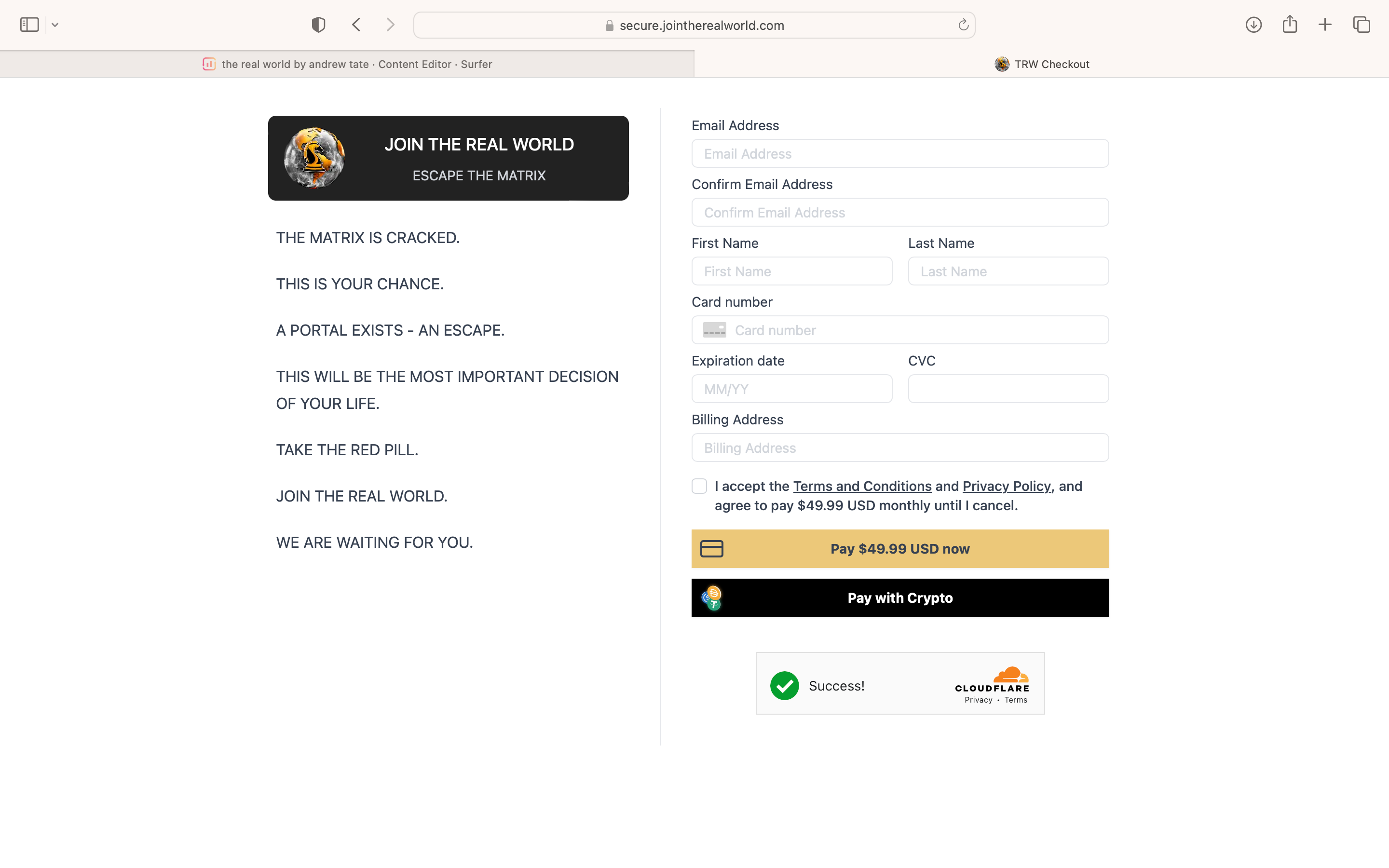 5. How you learn in The Real World
In every campus there is a video tutorial section on top of every course. You progress through a learning session by viewing the videos and answering the A, B, and C questions. Make sure it's all done before we move on to the next lesson. This course was created to keep learning and keeping information in mind. You may repeat these videos as many times as you wish. We haven't had a boring class yet!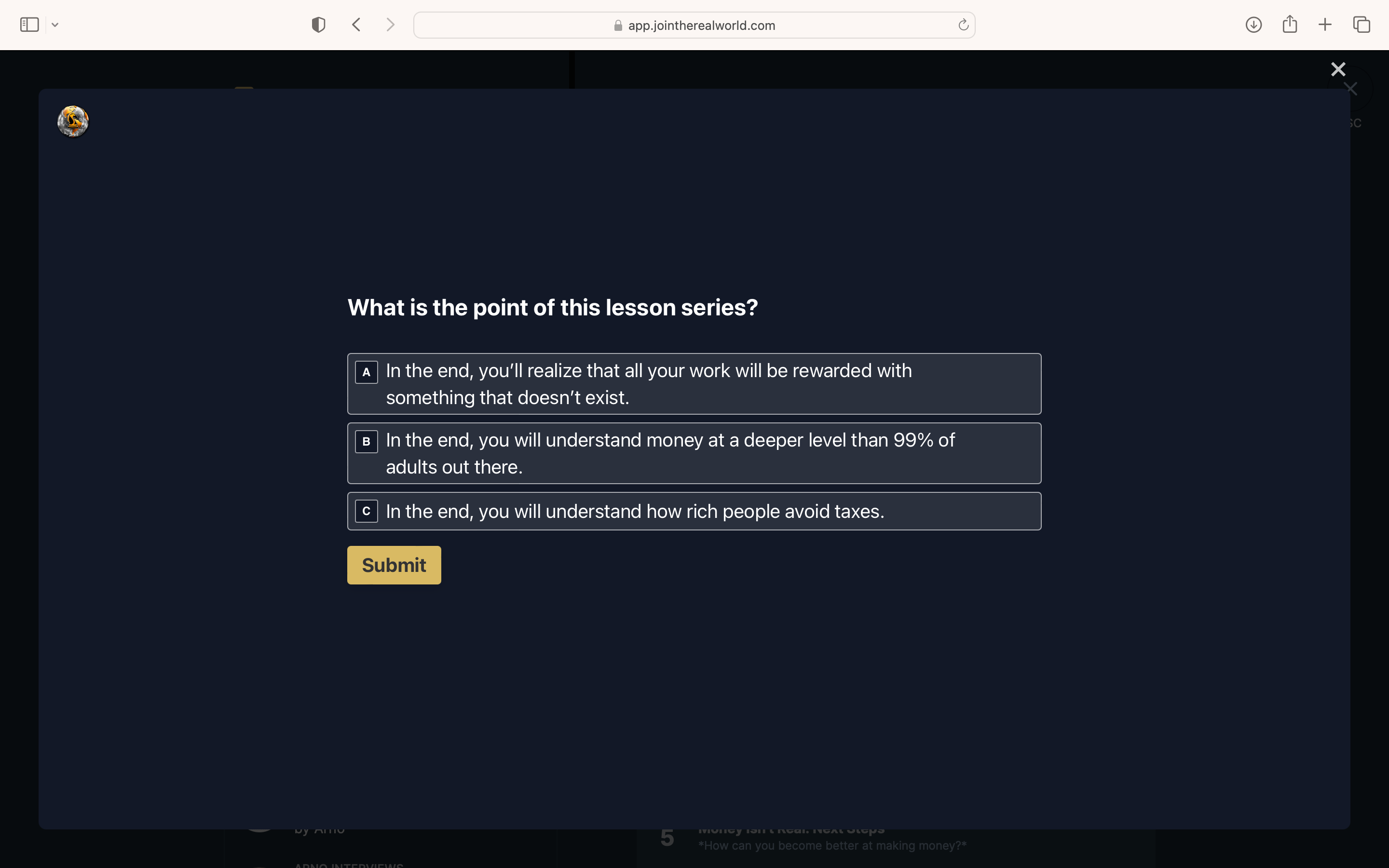 6. Are The Real World students getting results?
However, the controversy remains easily accessible for real world participants who report all their course results. I think the training is effective for many people who continue to make consistent efforts.
No one is making money without putting in work, but those that are following business models presented in the courses, are seeing results.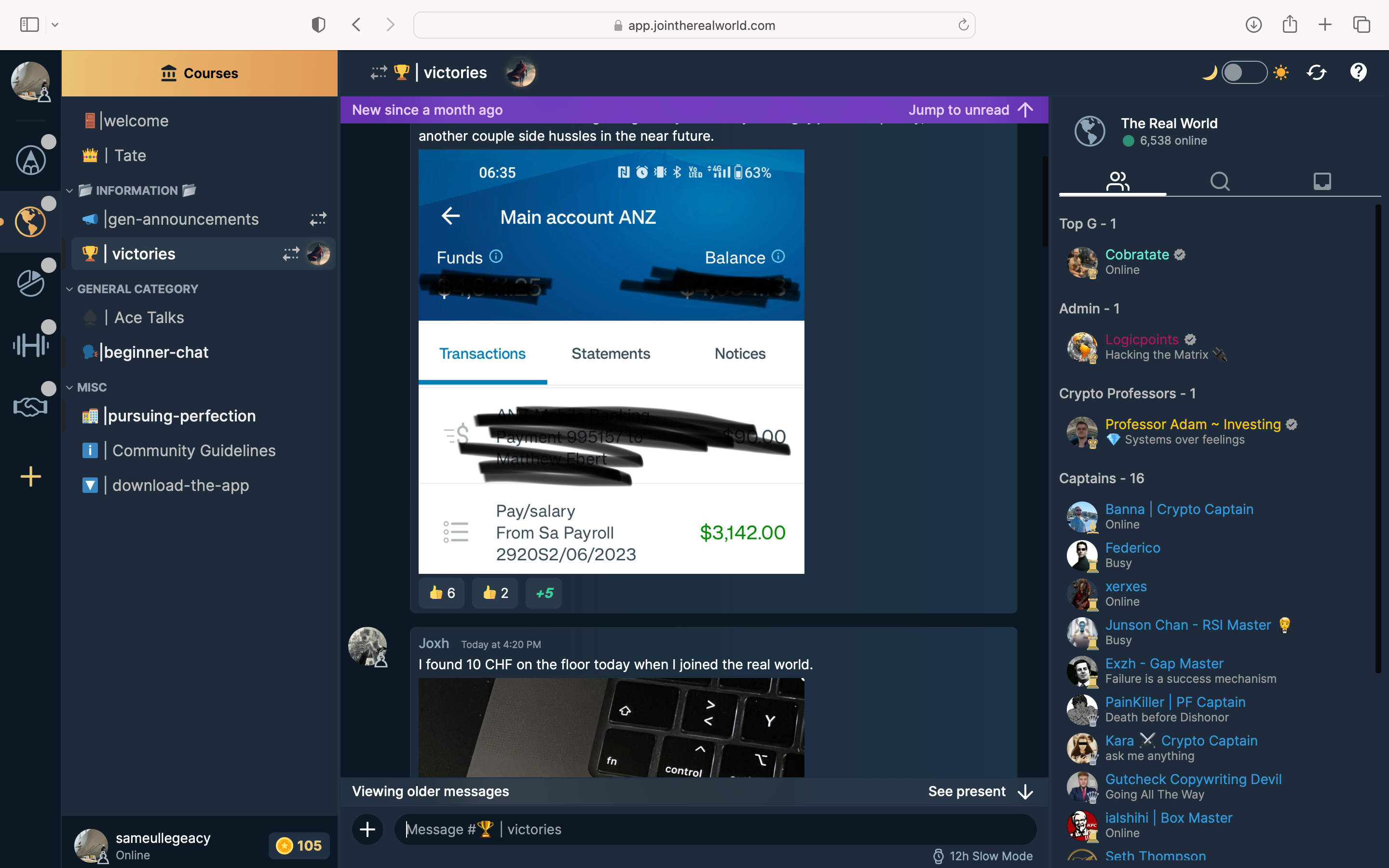 7. What subjects are covered in the Real World?
The Real World Subjects include: 
Freelancing: Monetize real world skills in the digital world 
Ecommerce: Learn how to start and scale an e-commerce business journey 
Stocks: Decipher the price movements of the financial markets (Stock market)
Crypto Investing & Trading: In the crypto campus, multiply money with the worlds most powerful asset class
Content Creation Campus: create a profitable digital assets to generate massive profits every single month 
Copywriting services: In this copywriting course, learn to use the power of words to sell anything.
Fitness: follow workout programs, join a community of others looking to improve their health through fitness.
Affiliate Marketing: learn the ins and outs of affiliate marketing.
Business mastery: Learn the basics to advanced topics of business and money.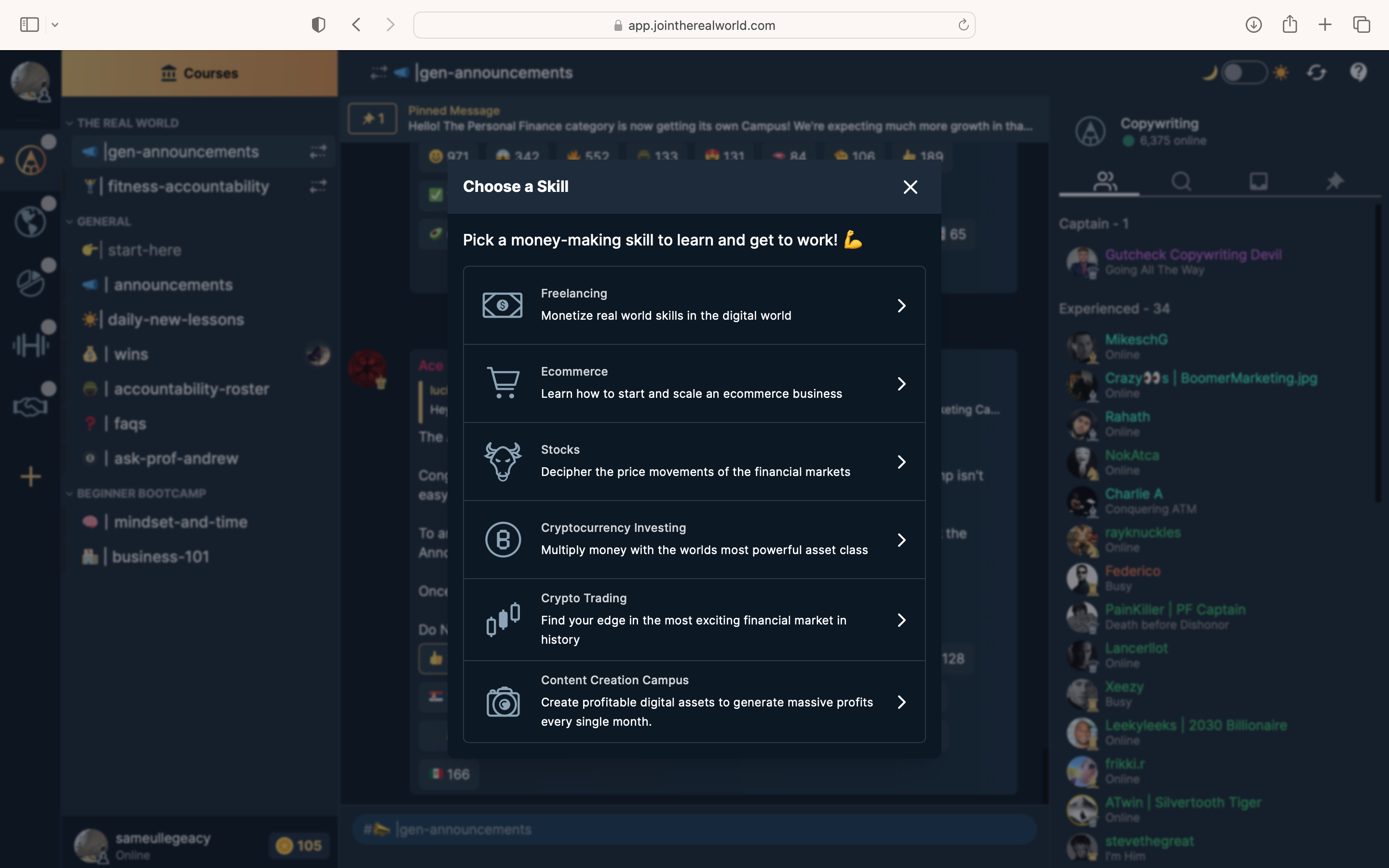 8. Do I have to like Andrew Tate to Join the Real World?
Probably. He is not in the courses all that often, but everyone teaching the classes likes Andrew Tate and knows him so they do discuss his ideas often. 
Who cares if you like him or not, he can teach you to make money online and provide you the tools you need to change your life and create financial freedom. Hate hime, don't hate him, just make money online.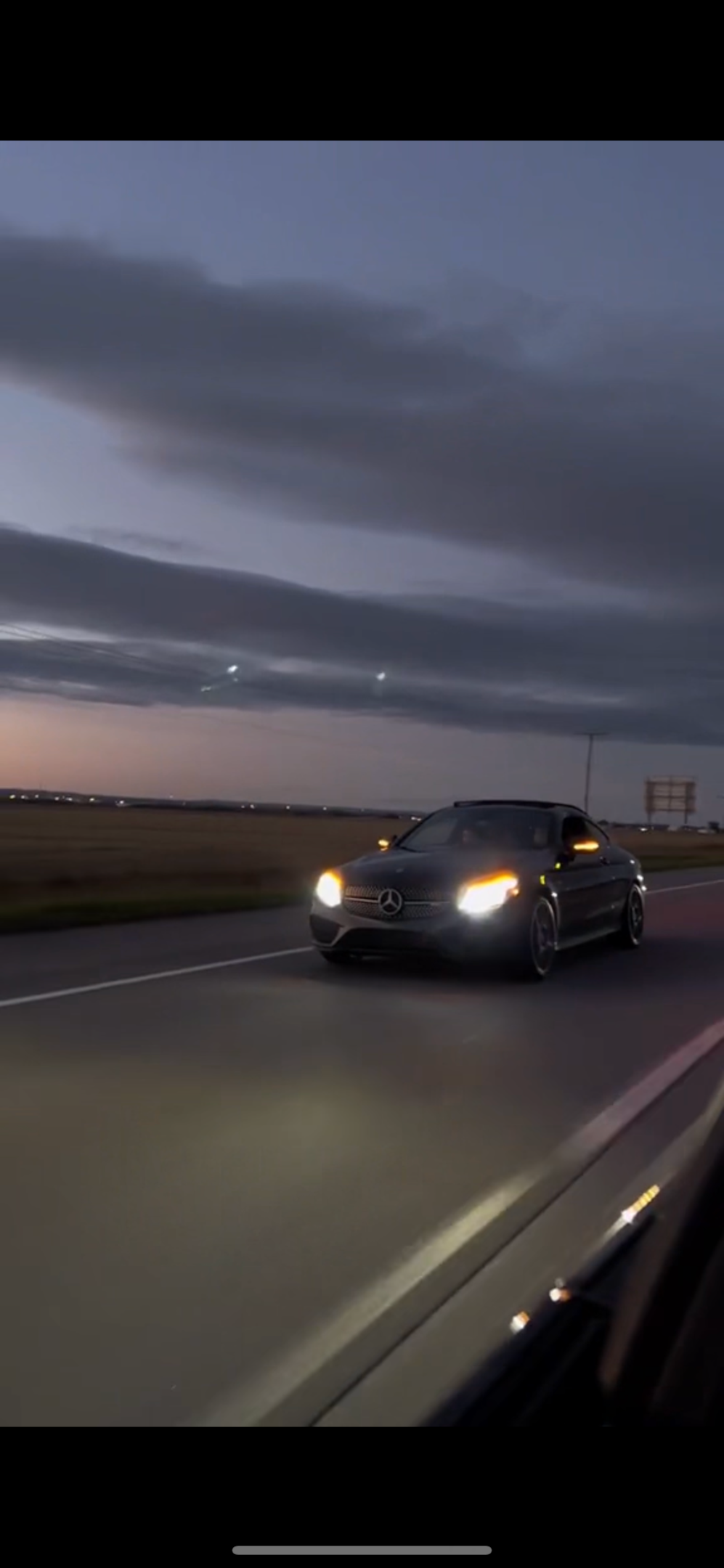 9. Is the Real just Motivation and Mental Toughness or is there actual stuff to learn?
The courses all start off with motivation videos and discuss mental toughness, but once you get into the content, you do actually learn stuff. You will learn the raw and unedited way to make money online in the Real World. 
10. How to join The Real World Andrew Tate
The Real World can be joined very quickly by anyone. Just follow this link, pay with credit card or crypto, and start learning immediately. 
11. Is Andrew Tate's The Real World Legit?
From my personal experience the real world is a legit training course that teaches how to make money and gives you the access to a community of similar people. This mentoring program is for those who think modern education has failed. This program is intended as an alternative to traditional schooling and university teaching. This is for people interested in getting rich.
12. Should you join The Real World?
The real world can be quite an investment and I'd definitely recommend it. You've probably come across a good resource on private and professional training programs. For those who are on the fence trying this course costs only $50 and the course is comparatively inexpensive compared to most of those courses I have taken over the years.
Does this former professional kickboxer, former webcam business owner, and social media canceled Andrew Tate know what he is doing? Join today and find out of yourself.