The 5 Best Cities in the USA to Visit with Families
When it comes to planning a vacation with the whole family, finding the perfect destination that caters to everyone's interests and preferences can be a challenging task. From exciting attractions to family-friendly accommodations, there are certain cities that stand out for their exceptional offerings. Here are the five best cities to visit with families, each offering a unique and memorable experience for kids and adults alike.
Qualifications for a good family vacation (in my book)
1. Water activity or nature activity available: Every day kids (and adults) of all ages need to have a way to stay active, be outside, and have fun getting messy or wet. I love a city with a water park or an interesting hike.
2. Something educational available: I prefer a city with a children's museum but something like a historic site or fun museums also will work.
3. Something entertaining available: Amusement park, live theater, parks, fun shopping options are all fun things kids enjoy that make a trip memorable.
1. Branson, Missouri
Nestled in the heart of the Ozarks, Branson, Missouri, is a family-friendly haven with a plethora of activities and entertainment options. Known as the "Live Music Capital of the World," Branson boasts numerous theaters and live music shows suitable for all ages. The whole family can enjoy dazzling performances ranging from Broadway-style productions to country music extravaganzas.
Branson also offers a variety of exciting attractions, such as Silver Dollar City, a 1880s-themed amusement park, and the Titanic Museum, an interactive experience that takes visitors on a journey through the history of the ill-fated ocean liner. Nature enthusiasts will appreciate the nearby Table Rock Lake, where they can partake in fishing, boating, and various water sports.
Getting around Branson:
Driving and parking will be your best option for getting your family around Branson. You will find that parking in the center of the main attractions may allow for walking, but you shouldn't have too much trouble finding parking at wherever you are going.
3-Day Itinerary for Branson, Missouri
Day 1:
Morning: Arrive in Branson and settle into your accommodation.
Afternoon: Head to Silver Dollar City, an 1880s-themed amusement park. Enjoy thrilling rides, live shows, and explore the craftsman shops.
Evening: Attend one of Branson's famous live music shows at one of the theaters. Choose from country, rock 'n' roll, or Broadway-style performances.
Day 2:
Morning: Visit the Titanic Museum for an interactive journey through the history of the Titanic.
Afternoon: Enjoy a relaxing boat ride on Table Rock Lake or explore the lake's shores for fishing and picnicking opportunities.
Evening: Take a ride on the Branson Scenic Railway, a historic train journey through the Ozarks.
Day 3:
Morning: Spend a few hours at the Shepherd of the Hills Fish Hatchery, where kids can learn about fish conservation and feed the fish.
Afternoon: Visit the Promised Land Zoo, a family-friendly zoo featuring a variety of animals, including petting areas for children.
Evening: Take a leisurely stroll along the Branson Landing, a scenic boardwalk with shops, restaurants, and a water and fire fountain show.
2. Omaha, Nebraska
Often underrated as a family vacation destination, Omaha has a lot to offer for visitors of all ages. The Henry Doorly Zoo and Aquarium is a highlight of the city, renowned for its world-class exhibits, including the impressive Desert Dome and the Lied Jungle, providing an immersive experience for kids and adults alike.
For a more educational experience, families can explore the Omaha Children's Museum, offering interactive exhibits and hands-on activities to engage young minds. The Lauritzen Gardens and the Heartland of America Park are also fantastic spots to enjoy leisurely strolls and picnics.
This may be the most family friendly destination on this list because it is a much smaller city. You won't have to worry about big crowds or traffic. Parking is easy and oftentimes free.
Getting around Omaha:
In my experience Omaha is not a great city for walking. Most things are spread out and will have parking lots so driving is the best way to get around. I have not used public transit here, but the bus stops all have nice and clean seating with lighting and covers. That may be an option if you do not have a rental car.
When you explore the Old Market you will need to rely on walking. Everything you will want to see will be in close proximity of each other.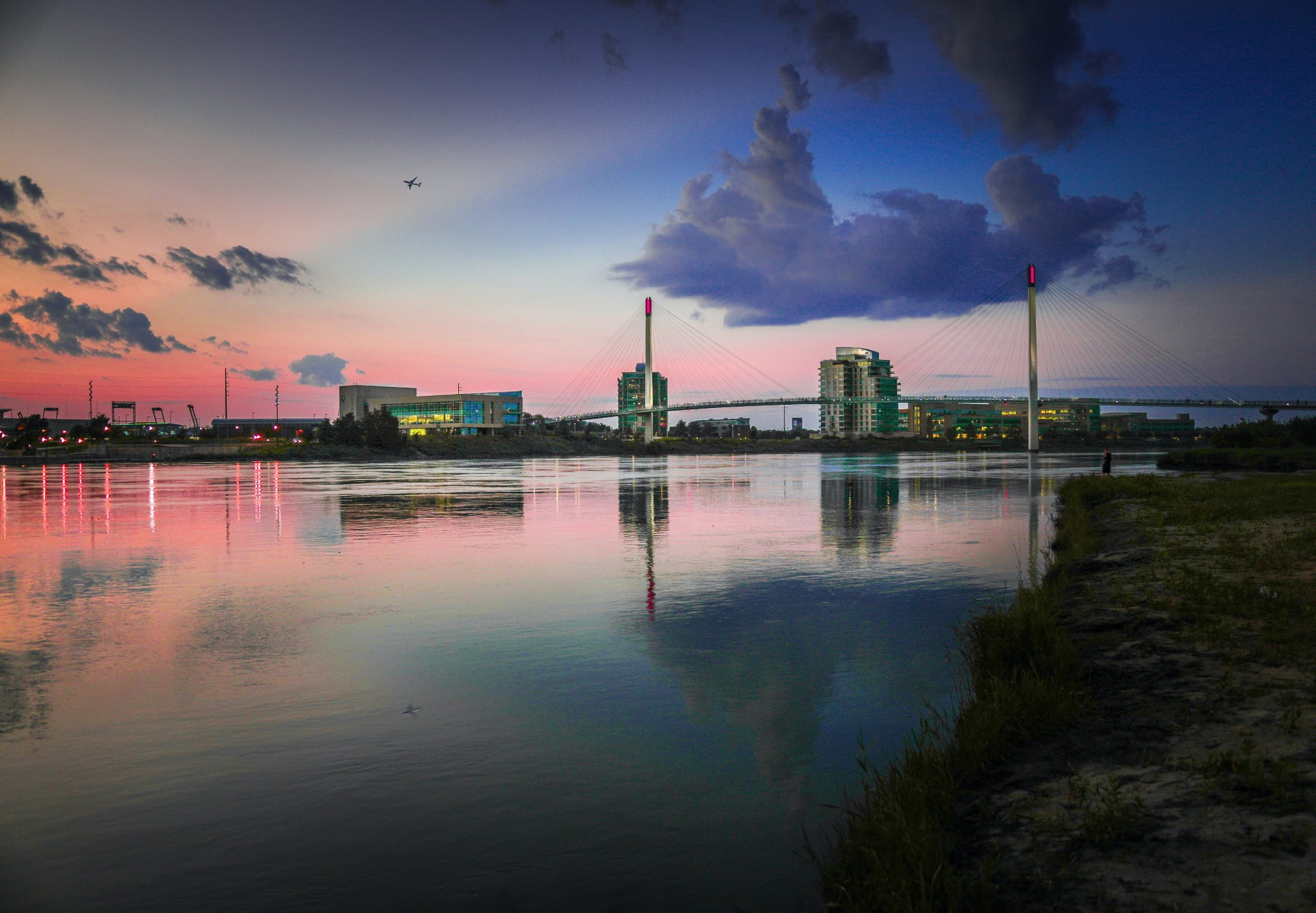 3-Day Itinerary for Omaha, Nebraska
Day 1:
Morning: Start your day at the Henry Doorly Zoo and Aquarium, exploring the various exhibits and attractions.
Afternoon: Head to the Joslyn Art Museum, featuring an extensive collection of European and American art.
Evening: Enjoy a relaxing dinner at the Old Market, a historic district filled with restaurants and shops.
Day 2:
Morning: Visit the Omaha Children's Museum, where kids can engage in interactive exhibits and hands-on activities.
Afternoon: Explore the Lauritzen Gardens, a beautiful botanical garden with walking trails and a model train garden.
Evening: Catch a performance at the Orpheum Theater, a historic venue showcasing various shows and concerts.
Day 3:
Morning: Discover history at the Durham Museum, housed in a stunning art deco building, displaying exhibits on regional history and transportation.
Afternoon: Enjoy some outdoor time at Heartland of America Park, offering scenic views and a relaxing environment.
Evening: Try some local cuisine and Nebraska steaks at one of Omaha's top-rated restaurants.
3. Salt Lake City, Utah
Salt Lake City is an excellent destination for families seeking a mix of outdoor adventure and cultural experiences. Nestled against the picturesque Wasatch Mountains, the city offers numerous opportunities for hiking, biking, and skiing in the nearby ski resorts during winter.
A visit to the Discovery Gateway Children's Museum will keep the little ones entertained with its interactive exhibits focusing on science, art, and creativity. For families interested in history and genealogy, the renowned Family History Library provides a unique opportunity to trace their roots.
Getting around SLC:
SLC is a big city with a vibrant downtown. If that is where most of your activities will be then you should have no issues walking. SLC does have more options for parking than many large cities so you should be able to find parking at most destinations, they just might not always be free parking.
3-Day Itinerary for Salt Lake City, Utah
Day 1:
Morning: Explore the Utah State Capitol and take in the panoramic views of Salt Lake City from its grounds.
Afternoon: Visit the Discovery Gateway Children's Museum, offering interactive exhibits for kids of all ages.
Evening: Take a leisurely walk around Temple Square, a beautifully landscaped area with historical buildings.
Day 2:
Morning: Head to Big Cottonwood Canyon for hiking and nature walks amidst stunning landscapes.
Afternoon: Visit the Hogle Zoo, home to a diverse range of animals and interactive exhibits.
Evening: Attend a performance by the renowned Mormon Tabernacle Choir (if available).
Day 3:
Morning: Explore the Natural History Museum of Utah, featuring fascinating exhibits on dinosaurs, geology, and native cultures.
Afternoon: Enjoy a fun-filled day at Lagoon Amusement Park, with thrilling rides and entertainment for the whole family.
Evening: Relax by the Great Salt Lake and catch the breathtaking sunset over the water.
4. Pigeon Forge, Tennessee
Located near the Great Smoky Mountains National Park, Pigeon Forge is an ideal destination for families who love the great outdoors. The Dollywood theme park, created by country music legend Dolly Parton, is a major draw, offering thrilling rides, live entertainment, and a glimpse into the area's Appalachian heritage.
Families can also explore the Titanic Museum Attraction, which provides an immersive experience that replicates the ship's interior and showcases fascinating artifacts. Additionally, the WonderWorks interactive museum and the Smoky Mountain Alpine Coaster are sure to provide endless hours of fun and excitement.
3-Day Itinerary for Pigeon Forge, Tennessee
Day 1:
Morning: Start your day at Dollywood, exploring its numerous rides, shows, and attractions.
Afternoon: Visit the Titanic Museum Attraction for an immersive experience of the famous ship's history.
Evening: Enjoy dinner and live entertainment at one of the many dinner theaters in Pigeon Forge.
Day 2:
Morning: Explore the Great Smoky Mountains National Park, taking a scenic drive or embarking on a family-friendly hike.
Afternoon: Experience the interactive exhibits at the WonderWorks museum.
Evening: Have a thrilling time on the Smoky Mountain Alpine Coaster, a unique mountain coaster experience.
Day 3:
Morning: Visit the Hollywood Wax Museum to meet lifelike wax figures of your favorite stars.
Afternoon: Enjoy a fun day at The Island in Pigeon Forge, with shopping, dining, and various attractions like the Great Smoky Mountain Wheel.
Evening: Watch a comedy show or live music performance at one of the entertainment venues in Pigeon Forge.
5. Philadelphia, Pennsylvania
I lived in Maryland for a few years of my teenage years and Philly was just a few hours away from us. My parents loved to drive here for trips and I had no clue why. It wasn't until I matured that I realized how awesome this city is for family trips.
Philadelphia is much cleaner than NYC and it has way more history. This is an amazing place to visit if you are homeschooling your kids or you just think they would do well to learn about US History. There is nothing like visiting the nation's first capital to give your kids exposure to history and culture.
For families interested in history and culture, Philadelphia is a city that should not be missed. Often referred to as the birthplace of America, the city offers numerous historical sites, including Independence Hall, where the Declaration of Independence was adopted, and the iconic Liberty Bell.
The Franklin Institute Science Museum and the Please Touch Museum are perfect for families with curious young minds, offering engaging exhibits and hands-on activities. Don't forget to indulge in the city's famous cheesesteaks while exploring the various neighborhoods and parks, such as Fairmount Park, one of the largest urban green spaces in the country.
Getting around Pilly:
In my opinion the best way to tour Philadelphia is to walk. Philadelphia is a very walking friendly city. I do think that this may be difficult with younger kids, but getting in and out of the car and trying to find parking will make things difficult. Walking will allow you to find some awesome markets and stores that you would not find if you drove everywhere.
If your kids are too young and walking a stroller all day sounds not fun I would recommend using an uber. The smoothest way to do this is to have a super easy collapsible umbrella stroller and a portable car seat that is easy to set up.
3-Day Itinerary for Philadelphia, Pennsylvania
Day 1:
Morning: Start your day at the Independence National Historical Park, visiting Independence Hall and the Liberty Bell.

NOTE: the line for liberty bell gets very long. In my opinion you should just walk past the line and look through the glass window and take a peak. It is not the coolest thing to waste your time in line with.

Afternoon: Explore the Please Touch Museum, where kids can engage in hands-on exhibits and interactive play areas.
Evening: Enjoy dinner at Reading Terminal Market, offering a wide array of food vendors and local treats.

This place is a must visit! This might not be friendly if your kids are less than 3 because taking a stroller around here would be chaotic. But if you have a baby carrier or your kids know how to stay close in a crowd this is such a fun place. Definitely great if you have teens.
Day 2:
Morning: Visit the Franklin Institute Science Museum for a day of interactive science exhibits and learning.
Afternoon: Explore the Philadelphia Zoo, one of the nation's oldest zoos, with a variety of animals and attractions.
Evening: If you have teens, take a family-friendly ghost tour to learn about Philadelphia's haunted history.
Day 3:
Morning: Discover the Eastern State Penitentiary, a historic prison with guided tours suitable for older children.
Afternoon: Stroll through Fairmount Park, enjoying the open spaces and visiting one of the many playgrounds.
Evening: Indulge in some iconic Philadelphia cheesesteaks for dinner before departing the city.
Other stops you can consider:
The rocky steps
Independence Hall: A UNESCO World Heritage Site and the birthplace of the United States, Independence Hall is where both the Declaration of Independence and the United States Constitution were debated and adopted.
Betsy Ross House: This house is traditionally associated with Betsy Ross, who is believed to have sewn the first American flag.
Philadelphia Museum of Art: While primarily an art museum, it gained widespread fame as the site of the "Rocky Steps," where Sylvester Stallone's character famously trained in the movie "Rocky."
Eastern State Penitentiary: One of the world's first penitentiaries, famous for its revolutionary approach to incarceration in the early 19th century.
National Constitution Center: An interactive museum dedicated to the U.S. Constitution, offering exhibits and educational programs.
Franklin Institute: A science museum named after Benjamin Franklin, featuring hands-on exhibits and interactive displays.
Christ Church: A historic church where many Founding Fathers worshipped, and where the First Continental Congress met.
The African American Museum in Philadelphia: Focused on African American history, culture, and heritage in the city.
Edgar Allan Poe National Historic Site: The former residence of Edgar Allan Poe when he lived in Philadelphia.
Conclusion
In conclusion, each of these five cities provides a fantastic setting for unforgettable family vacations, catering to a wide range of interests and preferences. Whether you're seeking thrilling adventures, educational experiences, or cultural enrichment, Branson, Omaha, Salt Lake City, Pigeon Forge, and Philadelphia will not disappoint. So pack your bags, gather the family, and get ready for an adventure of a lifetime in one of these incredible cities!